It was in 1920 that Abel Bouché had the audacity to create the first Champagnes BOUCHÉ from his only hectare of vineyard. In a post-war context, he succeeded in founding the foundations of the BOUCHÉ universe.
His son, Pierre, succeeded him in 1945. He gave the necessary impetus to the House and chose to make his own champagnes, without the help of the merchants. He makes his wines from oak barrels carefully stored in the attic of his house and invested in his vineyard by extending it to the famous villages of Champagne. Attached to this vinification under wood and wishing to make its added value, it marks each of its barrels with a crowned B, which we still use as monogram three generations later. A nice coincidence comes to him in 1960 when the neighboring bourgeois house and its historic cellars are for sale. He then moved to 10 rue du Général de Gaulle in Pierry, a house that still houses the headquarters and cellars of the Maison BOUCHÉ.
It was in the 1970s that José and Astrid Bouché succeeded him and perpetuated the Bouché style and
made it known and recognized throughout the world. Always making a point of their independence
in the design of their wines, they manage to stand out and be tasted by the finest palates. The
impetus given by this generation made it possible to include Champagnes BOUCHÉ on the list of
must-haves. The ascent and success are such that the Bouché family grows its vineyard up to 30ha.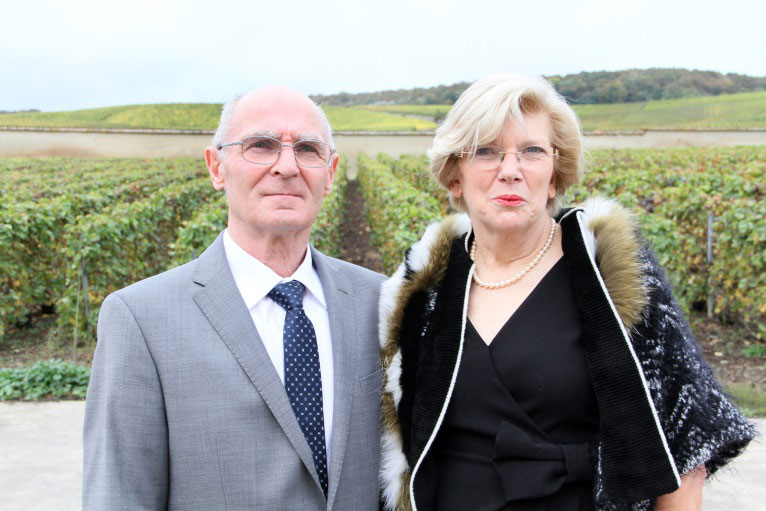 After spending his childhood watching his forefathers, Nicolas Bouché took over the important role of Cellar Master in 2010. After studying in several countries of the new world, this agronomist and oenologist took over the management of the House with courage and humility. Aware of the work of
previous generations, he perpetuates the legacy by bringing it freshness and expertise. He transcribes the know-how of his peers, acquired throughout his life spent in the vineyard as in the cellar with his father and grandfather. These places represent his childhood and the family's legacy.
It is still enough to cross the road to access the first house of the founder formerly housing the cellar and its place of life. This certainly allows Abel Bouché to keep a close eye on the House and the precise work of his great-grandson, Nicolas.
The profil of the
Cellar Master >